Services
Your First Choice for Fisher Plumbing, a Sewer Line Clean-Out, and a Broken Sewer Line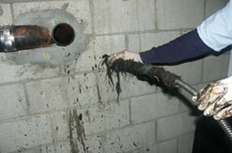 Plumbing problems? Woodland Hills Plumbing Services is here to fix them. Reliable, trained and professional plumbers will expertly tackle your situation. From interior simple fixes—that leaking faucet that is keeping you up at night and costing you money every month to large scale renovations, new construction and small business needs your plumbing problems will be solved. Our years of experience with satisfied customers ranks up expert in the area. What may be a first time situation for you is something we have seen and solved often in the past. Using the latest techniques, always meeting code requirements and brining in the work in a cost effective manner is OUR standard. Your time is valuable. Any plumbing problem can happen at any time. Call Woodland Hills Plumbing Services to get a plumber to your door, fast.
We offer to Clean, Inspect, Install, Repair, or Replace any of the following and more:
Backflow Preventers
Dishwashers
Drains
Electronic Leak Detection
Faucets
Garbage Disposals
Main lines
Pumps
Remodeling
Septic System
Septic Tanks
Sewer Pipes
Showers & Tubs
Sinks
Swimming Pool Pumps & Boilers
Toilets
Underground Water & Sewer Breaks
Video Inspection of Drains & Sewers
Water Filtration Systems
Water Heaters
Water Lines/Pipework
Call 800-729-8149 today for an estimate.
Water damage can be one of the most costly home repairs. They should not be ignored. Leaking pipes and clogged drains need not break bank. They can if neglected. The smallest spot that stays wet can mean you are sitting on a potentially bigger problem, hidden in walls or under floors. Mold can follow and pose serious health risks. A professional plumber knows what to look for. Woodland Hills Plumbing Services staff will provide estimates and describe the nature of repairs to be done.
In new construction and renovations you will work with our experts to meet you design needs within your budget. We are fully prepared to create your customized one of a kind kitchen. Have you considered an on/off wall spigot near to stove to fill your pots while leaving the skin free? In your new or redesigned bath the placement, number and kind of shower heads can transform the daily shower into an invigorating start for your day. When desired water conservation can be the primary design feature with low flow, high efficiency fixtures throughout your project.
Woodland Hills Plumbing Services is prepared to work on any plumbing project. We work to provide you clean, safe drinking water, clean water for all your household and bathing needs and will protect your family and your home from noxious gasses. In your existing home your water heater is not maintenance free—seals can evaporate and rust is a fact of life. A yearly inspection with a cleaning by our trained staff will extend the life of your equipment.
We have come a long way from the days of hand carried water and primitive wells. The art of safe water was known to the ancient Romans, designers of the famous Aqueduct. The human body cannot thrive without a safe and reliable water supply Let Woodland Hills Plumbing Services bring this ancient art into your family and your home in today's 21st century world.